Message from Dr. Sanjay Rai, Senior Vice President for Academic Affairs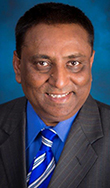 It is my pleasure to welcome you to Montgomery College.
With the safety of students, faculty and staff the greatest priority, Montgomery College is continuing to offer the fall semester primarily through remote instruction. I am very proud to let you know that nearly 1,000 faculty have had specific training last year, to teach their classes in a structured remote learning format. This effort provides students access to high-quality, engaging courses that are taught by content experts and have the skill set to remote teach effectively.  The types of course offerings are noted below, but please review the class schedule to see how specific courses are offered. We have three types that you can find out more information about here:
Distance Learning courses are offered completely online and allow students to learn independently, on their own schedules, as they meet specific deadlines and complete assignments.  Instructors guide students' learning with lessons, activities, and feedback through a Blackboard course site. Distance learning courses are indicated in the course schedule as Distance Learning with a DL WEB course location.
Structured Remote courses are scheduled on specific days and at specific times. Students meet as a class remotely through Zoom or Blackboard Collaborate; instructors will tell students which software to use.  Students complete reading and assignments according to the course schedule.  Class sessions take place in real time, and the instructor leads course sessions. These courses are listed in the course schedule with specific times and on-campus class locations, but they will not meet in those classrooms.  Instead, they will meet remotely at the scheduled times.
Hybrid courses are career technology-focused classes that cannot be replicated online because they require specialized equipment and/or hands-on instruction. It can be done safely, in small numbers, if we all practice safety measures. Students enrolled in programs such as automotive technology, building trades, and some health sciences will need to come to campus on specific dates to specific locations. These courses are listed in the course schedule with specific times and on-campus class locations. Some meetings will happen online and some on-campus. Instructors will contact students to provide details about course meeting times. Some course sessions will be held on campus, with safety measures in place to protect students and employees. If you are required to come to campus, follow the Health and Safety Guidance. 
 
We have Academic Program Advisors who are prepared to help you set and achieve your goal, whether you want to transfer and complete a four-year degree, earn an associate's degree or certificate and enter the workforce, or develop new skills and knowledge to change careers or enrich your life. I am very proud of our nationally recognized comprehensive degree and certificate programs as well as our Workforce Education and Continuing Education programs, and of our incredibly talented and successful students. We can help you define your goal, and assist you to develop a plan to successfully achieve your goal.
We are offering new degrees and certificates reflecting high-demand areas of study including Data Science, Bioinformatics, and Cloud Computing. We offer five fully online degrees: Business, General Studies, Criminal Justice, Computer Science and Technologies, and Early Childhood Technologies (a Z-degree with no textbook costs). Z-courses (zero textbook cost) make use of Open Educational Resources (OER) or other materials which have no cost to students. We also offer courses that have embedded coaches who offer additional resources to support students in their academic efforts.
I am proud of our outstanding, highly qualified and dedicated faculty, supported by our equally qualified and dedicated staff. They are powerful catalysts who instruct, mentor, and guide students. Our faculty work closely with the faculty at four-year colleges and universities to ensure that our courses are aligned. Transfer students move seamlessly to their next destination. We also collaborate with local industries to ensure that the knowledge and skills you learn at Montgomery College prepare you to be successful in the workforce.
Regardless of your journey to Montgomery College, you will find a pathway to success at Montgomery College. I promise you a rich and rewarding experience as part of a community that is passionate and excited about learning and growing together.