Message from Dr. Kimberly B. Kelley, Vice President and Provost, Rockville Campus and the Collegewide Arts, Business, Education, English, and Social Sciences Unit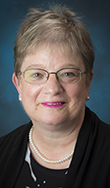 Welcome to the Rockville Campus! As a vibrant community, and home to the Macklin Business Institute and the Robert E. Parilla Performing Arts Center, the Rockville Campus provides relevant and engaging learning experiences to a diverse, dynamic student population. We offer exciting signature academic and cultural programs, and we strive to create and maintain a state-of-the-art, welcoming environment. Each day at Rockville, we work diligently to lead, motivate, support, and inspire our students and partners to achieve their career and educational goals.Our faculty, staff, and students enjoy academic and cultural programs that reflect the diversity and international flavor of an exceptional suburban campus. In addition, community members participate in special events and a host of noncredit and credit educational and athletic offerings open to the public.
Accessible by all modes of transportation and located near the lively Rockville Town Center, the Campus opened in 1965 with 2,489 students. It now serves approximately 15,000 students each semester, including for-credit programs and noncredit courses through Workforce Development & Continuing Education. We collaborate with Montgomery County Public Schools to offer Early College Programs for high school students in business, education, and mathematics. Embracing the "One-College" concept, we also partner with other Montgomery College campuses in Germantown and Takoma Park/Silver Spring to provide distance learning opportunities that deliver academic relevance, flexibility, and rigor.
After many years of planning and advocacy, we are excited to open the new Long Nguyen and Kimmy Duong Student Services Center in spring, 2021. This state-of-the-art facility serves as a "one-stop shop" for the MC'sRaptor Central, and associated student admission and enrollment needs. All of these critical student services will be in one location to make pursuing your educational goals at Montgomery College easier. The new Long Nguyen and Kimmy Duong Student Services Center provides a centralized experience for new and returning students and student club and gathering spaces that will make it easier to spend time with fellow students, friends, family, and colleagues.
If you have questions about the Rockville Campus, please call my office at 240-567-5010. I also encourage you to take the College's Virtual Tour located on the campus Web page, www.montgomerycollege.edu/rvhome, by selecting the "Virtual Tour" link at the bottom of this page.
In the following building descriptions, the codes that appear in parentheses following the building names correspond to the codes used in the campus map posted on campus buildings and published in the schedule of classes.
The Amphitheatre (AT) is an open, outdoor area near the Humanities Building with tiered seating, sun decks, and an enclosed information booth.
The Campus Center (CC) houses the Montgomery College Rockville Campus Bookstore, CaféMC, dining rooms, MBI Café, and Also in the Campus Center are the Workforce Development & Continuing Education classrooms, registration services, and offices, and the Marriott Hospitality Center (e.g., food management, classrooms, and the student kitchen).
The Computer Science Building (CS) houses classrooms, computer laboratories, faculty offices, and other computer facilities.
The Counseling and Advising Building (CB) houses the Achieving the Promise Academy (ATPA) personnel. ATPA is a Collegewide program that provides academic support for students through embedded classroom support and one-on-one individualized academic coaching.
The Gordon and Marilyn Macklin Tower (MT) contains the library, the Writing, Reading and Language Center Lab, faculty and administrative offices, MCTV and Media Production Services, and the College Archives/Special Collections Office.
The Homer S. Gudelsky Institute for Technical Education (GU) is a state-of-the-art technical training facility offering instructional programs in four primary areas: automotive technology, building and construction technology, and workforce technologies. The facility houses instructional laboratories, classrooms, conference rooms, and faculty offices.
The Humanities Building (HU) houses the Writing, Reading, and Language Center, an honors seminar room, classrooms, computer laboratories, a conference room, the Evening and Weekend Adjunct Faculty Office, the Campus Facilities Office, faculty offices, and the mailroom.
The Interim Technical Training Center (TT) houses technical training laboratories and classrooms associated with the programs in the Gudelsky Institute for Technical Education.
The Music Building (MU) houses a recital hall, a rehearsal hall, practice rooms, studios, an ear-training laboratory, specialized classrooms, and faculty offices. The building is equipped with pianos, organs, and other musical instruments.
The North Garage (NG) offers 918 parking spaces on seven levels along with five electric car charging stations.
The Paul Peck Art Building (AR) contains classrooms, the Sarah Silberman Art Gallery, studios for crafts, sculpture, painting, ceramics, drawing, printmaking and design, and faculty offices.
The Physical Education Center (PE) includes two all-purpose gymnasiums, a swimming pool with a separate diving area, an apparatus room, a weight room, dance studios, locker and shower facilities, classrooms, and faculty offices. Adjacent to the building are the athletic areas for track, baseball, softball, tennis, and soccer.
The Robert E. Parilla Performing Arts Center (PA) has a 500-seat theatre and is the site for both campus productions and community performances. Its design includes 38 line sets, a greenroom, a Bayreuth pit, a lobby gallery, dressing rooms with showers, and a box office. Student productions and singular events are presented here, such as MC's Got Talent and the Annual Honor Awards Convocation, as are events in the College's Guest Artist Series and Saturday Morning Children's Series. The facility is also used extensively by the public.
The Science Center (SC) houses the department of biology on the first and second floors, chemistry on the third floor, and physics, engineering, and geosciences on the fourth floor. The rooftop has an astronomy observatory. The Science Center addition houses the department of mathematics, classrooms, and math labs.
The Science Center West Building (SW) houses classrooms, mathematics labs, an auditorium, and the Judy E. Ackerman STEM Learning Center.
The South Campus Instruction Building (SB) currently houses classrooms and faculty offices.
The Long Nguyen and Kimmy Duong Student Services Center (SV) contains Raptor Central, Counseling and Advising, Financial Aid, the offices of Admissions and Records, the office of the International Student Coordinator, Student Financial Aid, Cashier, the Trio Student Support program, the office of the Vice President and Provost, the Assessment Center, the Office of Student Life and Student Activity Center and Veterans Affairs.
The Technical Center (TC) contains facilities for career-oriented programs including applied geography, architectural technology, computer-aided design and graphics, construction management, graphic arts, interior design, photography, and television. Along with the Media Arts Gallery, the Technical Center also contains classrooms and faculty offices.
The Theatre Arts Building (TA) contains classrooms, laboratory performance spaces, a scenery shop, technical facilities, faculty offices, and a stage and arena for academic performances and College activities.
For more information,
visit the campus website at
www.montgomerycollege.edu/rvhome
or call 240-567-5000; TTY 301-294-9672
Rockville Campus
51 Mannakee Street
Rockville, MD 20850
Directions to the Rockville Campus
Directions to the Rockville Campus
By Car: From the north: Take I-270 South to Exit 6 (Route 28), W. Montgomery Ave./Rockville. Then take Exit 6A (Route 28) East. Turn left at first traffic light onto Nelson Street. Go to first traffic light at Mannakee Street; turn left. The campus is 1-1/2 blocks on the left.
From the south: Take I-495 to I-270 North exit 6A (Route 28, W. Montgomery Avenue/Rockville). Follow Montgomery College sign through traffic light (road becomes Nelson Street). Go to first traffic light at Mannakee Street; turn left. The campus is 1-1/2 blocks on the left.
A valid Montgomery College parking permit is required. Visitor permits can be obtained from Raptor Central SV 102 and from the Office of Safety and Security in SV 122.
By Metro: Take Red Line train to Rockville station and transfer to Metrobus Q2 (Veirs Mill Road line) or Ride On Bus Route 46 to campus bus stop on South Campus Drive.
By Bus: The campus is served by both Ride On Bus and Metrobus routes with connections to Metrorail. Visit www.montgomerycollege.edu/maps for more information.
Rockville Campus and Vicinity
For more information, visit www.montgomerycollege.edu/rvhome.