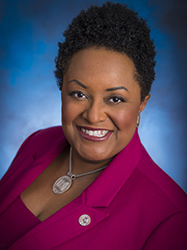 Welcome to the Montgomery College family!
A Montgomery College education is about liberating your hopes and dreams and turning them into tangible goals. By arming yourself with an education, you make a commitment to empower yourself and, in turn, your whole family. This is not, and will not be, a solo venture. Your successes, and your challenges, are shared by so many around you: your family, your friends, your classmates, your professors, and your Montgomery County community. By making a difference in your own life, you are enriching the lives of many people around you, some of whom you may not even know yet.
You may feel overwhelmed, or maybe even intimidated, by what lies ahead. That is completely natural. I remember my first day at college like it was yesterday - it is hard to believe the actual number of yesterdays since then! As the first in my family to attend college, and many miles away from family or friends, I felt a mixture of emotions from excitement and anxiety to freedom and homesickness. But it was early on in my college experience that I began to learn who I was, who I wanted to be, and who I could be with the support and mentorship of my new community.
You could say I have never left college! I turned my love of reading and of learning into a bachelor's degree, and then a master's degree, and finally a PhD. And here I am today - president of Montgomery College.
At this point, you are one step closer to changing your life. If you ever start to doubt yourself, I encourage you to take a breath, and purposefully turn to a supportive person, such as a professor, a counselor, a friend, or parent. All stand ready to help you reach your potential, whatever goal you set for yourself.
Whether you are the first member in your family to attend college, or one of a long line of college graduates, you are now in the right place to make your own mark on the world. Whether you are here to receive a certificate in a critical trade, earn an associate's degree, transfer to a university to earn a bachelor's degree, pursue your own unique educational goal, an adult learner seeking to expand your mind, or a recent high school graduate trying to figure out what career to pursue, you are in the right place to carve your own future and seek to fulfill your dreams. No matter who you are, you are forever part of a phenomenal and very special family: Montgomery College.
Welcome!
DeRionne P. Pollard, PhD
President
president@montgomerycollege.edu