Montgomery College 2016-2017 Catalog
[ARCHIVED CATALOG]
Montgomery College 2016-2017 Catalog
---
Welcome to the Montgomery College catalog!

Whether you are interested in attending Montgomery College, or are already enrolled, you can easily see the wide array of academic options that Montgomery College has to offer. Our online catalog can help you quickly locate and save details about our undergraduate programs.
[Credit bearing courses only.]

Archived Catalogs

Looking for a previous catalog? Select from the most recent catalogs below or click here to view all archived MC Catalogs.  

 
  Two Ways to Find Your Course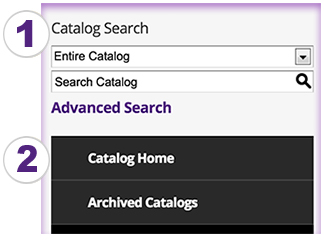 Catalog Search - In the dropdown in the upper right, select the type of information you are looking for.
Courses
Programs
Departments
Other Content
Entire Catalog
 


Or browse contents - Click on a link in the right navigation menu.
  Catalog Help & Accessibility
My Favorites

Social Media

Printer-Friendly

Catalog Help

Click this star icon in the top of any section you want to save to your favorites. The next time you go to

My Favorites

, your material will be there.

Whether you are faculty member or a student, you can share Catalog information on Facebook or Twitter. Just click the icon and spread the word!

Need a hard-copy? Click the print icon at the top of any page within the Catalog and generate a pop-up page formatted to print neatly.

At the top of every page you may click this icon to get more specific information on how to use the Catalog.

Need Help?

For general assistance and College information please contact the Montgomery College Response Center: response@montgomerycollege.edu or by phone at 240-567-5000.

If you have any technical questions regarding the catalog please e-mail us at catalog@montgomerycollege.edu.

If you are having difficulty accessing this site, please contact dss@montgomerycollege.edu.

Goin' Mobile!

A mobile version of our catalog (m.catalog.montgomerycollege.edu) can be viewed on your Android or Apple device.

The Catalog is also available on MC's new mobile app. The College community can go to the Apple iOS App Store or the Android Play Store, type in, 'Montgomery College', and download the MC app for free.
---